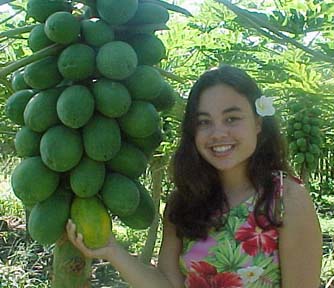 Aloha from Our Big Island Papaya Farm
If you have ever visited Hawaii, you know that it is filled with exciting and often exotic people, sites, fragrances and tastes. The Big Island in particular has beautiful beaches, lush rainforests, a fiery active volcano, and many of the tropical fruit and nut orchards in the State. On the Eastern corner of the Big Island, where the sun first touches Hawaii, we have been growing tropical fruit for nearly 50 years.
Fresh Papayas Shipped in the USA!
We are now bringing to the people of the contiguous USA the fresh exotic tropical taste of two distinctive varieties of papayas: Rainbow and Sunred papayas. Our goal is to bring to your doorstep the best papayas you'll ever have, just like you may have tried when visiting our island state.